Wednesday, 20 April 2016 19:50
Written by user2
ہُوَ الۡاَوَّلُ وَ الۡاٰخِرُ وَ الظَّاہِرُ وَ الۡبَاطِنُ ۚ وَ ہُوَ بِکُلِّ شَیۡءٍ عَلِیۡمٌ ﴿۳﴾
He is the First and the Last, the Manifest and the Hidden: and He has full knowledge of all things. (Surah Hadeed)
In the above verse of the Qur'aan Kareem, Allah Ta'ala'ala explains to us that his being is eternal. Being eternal means that Allah Ta'ala'ala was forever, is forever and will always be forever. Allah Ta'ala'ala has no beginning and no end. Rather, he is the creator of time and the creator of every creation.
Wednesday, 13 April 2016 04:37
Written by user2
The virtue and weight of لا إلاه إلا الله is due to the fact that it is the very basis of the entire structure of Islam. It contains the oneness of Allah Ta'ala and the declaration of the servant that he will worship and obey none other than Allah Ta'ala.
It is for this very reason that Rasulullah (sallallahu 'alaihi wasallam) advised the Sahaabah (radhiyallahu 'anhum) to renew and strengthen their Imaan by reciting the kalimah لا إلاه إلا الله in abundance.
Saturday, 21 February 2015 22:07
Written by Webmaster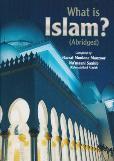 Format: PDF
Size: 843 KB
Pages: 64
Description:
People all over the world are looking for guidance and direction, peace of mind and contentment of the heart. The answer to man's confusion is Islam. Islam is a way of life which was brought into this world by Allah Ta'ala (God), via the last messenger, Prophet Muhammad (Sallallahu Alayhi Wasallam) [Peace be upon him]. Thus a Muslim is one who accepts the faith and practices that way of life. Those who are ignorant of the teachings of Islam, or do not act upon them, are not real Muslims. There are two things necessary for anyone to be a true Muslim. Firstly, to learn the proper knowledge and teachings of Islam. Secondly, to believe in these teachings and thirdly to live accordingly. May Allah, The Almighty, grant us the ability to learn Islam, practice Islam and to pass it onto others, with all sincerity. We hope this booklet will serve as a brief introduction to Islam and its beautiful teachings. We pray that it leads to a greater desire to learn, practice and teach Islam. This book may be an ideal gift to a person who is not a Muslim and is interested in knowing more about Islam and its principles.